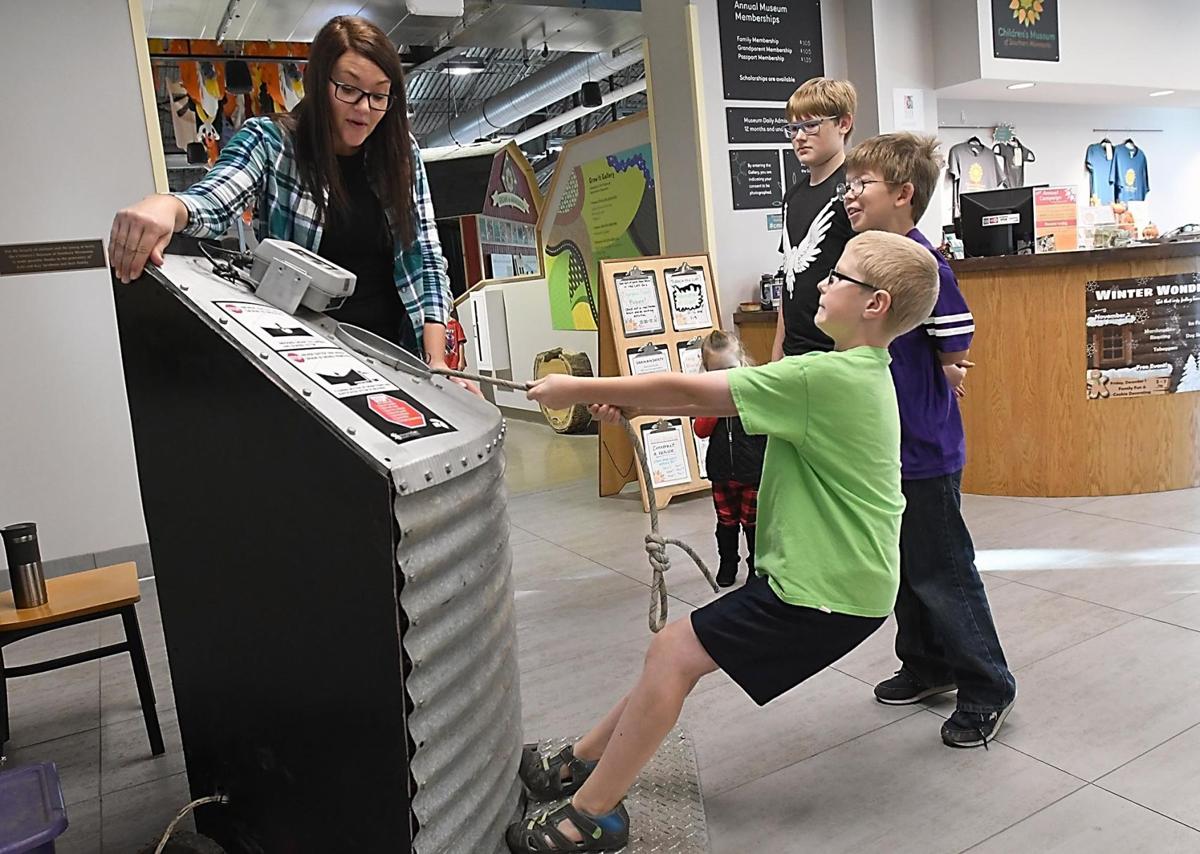 MANKATO — Grain bin accidents, sometimes ending in tragedies, are an unfortunate reality in farm country.
Yet families who don't grow up on farms might not be aware of the dangers.
An interactive exhibit at the Children's Museum of Southern Minnesota Friday taught children the basics of grain bin safety, including how difficult it can be to perform a rescue.
Grain bin emergencies occur every year, most often after people walk out onto the grain, according to the Occupational Safety and Health Administration. When the farm auger starts moving the grain, it can create a false floor that collapses under weight.
Jade Kampsen, coordinator of outreach and recruitment at the Southern Minnesota Center for Agriculture, said the moving grain can then suck a person down.
"Quicksand is the best way to describe it when the grain starts moving," she said. "It's very dangerous."
The exhibit was presented by the center for agriculture, which often uses it for education. Children were invited to tug on a weighted rope to show how much force is needed to pull someone out of the bin to safety. The farther down, the more force needed — 325 pounds of force would be needed to pull a 160-pound person up from just 3 feet under the grain.
Friday's demonstration is part of the museum's ongoing efforts to give children a full view of agricultural practices in the region, said Rochelle Koberoski, museum farm manager.
"Most children haven't been exposed to a lot of the farm equipment," she said. "With them learning about harvest outside, it's nice to have this piece inside when they first come in the door to learn to be safe and aware."
Reilly Davis, 9, and his friends tried their turn at the rope. Gaining leverage with his feet up against the base of the grain bin model, he exceeded 50 pounds of force. His mother, Beth Ann, said she liked how educational the exhibit was, as she didn't realize how difficult rescues were.
"Yes we live in Minnesota, but it's not something we deal with everyday," she said. "Just this little bit of information helps them."
Category: General Information
Published: Monday, 30 October 2017 11:35